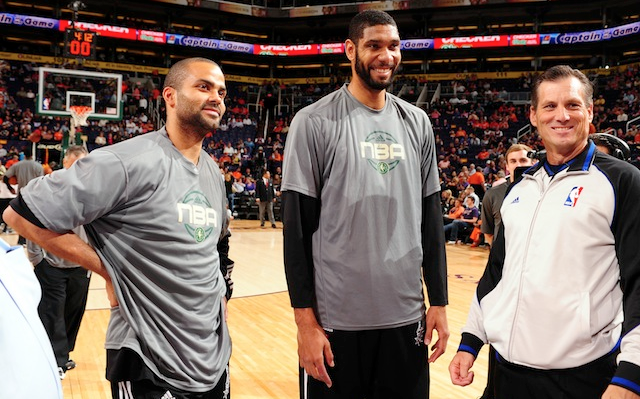 Veteran official Greg Willard has died after a battle with pancreatic cancer, the National Basketball Referees Association announced Tuesday.
"Greg epitomized what it meant to be an NBA Referee through dedication to his craft, hard work, and integrity both on and off the court," said NBRA general counsel Lee Seham in a statement. "He was not only a great NBA Referee, but more importantly, a wonderful person, and our thoughts and prayers are with his family during this difficult time."
Willard, 54, spent 24 seasons as an NBA referee, starting in 1988 and officiating 1,494 regular-season games, 136 playoff games, including two NBA Finals games and the 2006 All-Star Game.
"The entire NBA family joins me in mourning the loss of one of our own, Greg Willard," David Stern said in a statment. "Greg touched all those with whom he came in contact thanks to his extraordinary spirit, dedication and hard work. As a Finals referee, he reached the highest level of his profession while at the same time demonstrating a strong commitment to his family and his community. Our thoughts are with his wife Laurie, their children and the rest of the Willard family during this difficult time."
Willard was diagnosed with pancreatic cancer before working Game 6 of the 2012 Western Conference finals between the Thunder and Spurs. He was scheduled to work the game, set to be his 11th of the 2012 playoffs, but withdrew.
Before the news of Willard's death was officially announced, LeBron James tweeted, "RIP to one of our NBA refs Greg Willard due to cancer! Prayers goes out to his family and friends #NBAFamily."
Willard attended the annual NBA referees camp in New York in late September and officiated a preseason game between the Los Angeles Lakers and Utah Jazz on Oct. 16.
All NBA officials will wear wristbands or patches with his jersey number 57 for the remainder of the 2012-13 NBA season. The NBA will also have a moment of silence at all games tonight and Wednesday for Willard.